For those who have not been skiing before many versions of the holiday come to mind. They're the ones where the entire family is gently lacing down the mountain, taking the whole event in their stride. Others think of wipeouts, head-first snow diving, and sitting at the resort covered in plaster. When in reality it's mostly spent whizzing down the mountain after you have found your ski legs, but by that time the holiday is almost over and you were just starting to enjoy it. Unfortunately, you may have gone with a travel broker who had no idea about skiing holidays and he just landed you in the most competitive amateur ski resort.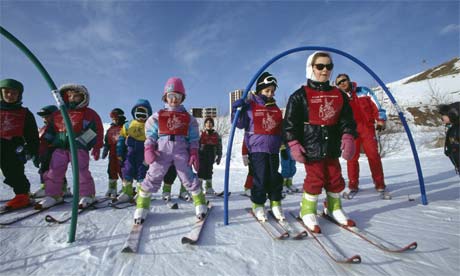 In this article, I will give you some tips to help prevent all the tedious confusion from happening so you can pick a resort that matches your skill level and nighttime activities you will enjoy because you can only sit in a heated pool sipping wine for so long.
Beginner Resorts in Europe
Les Arcs Ski Resort
Les Arcs from Aiguille Rouge (Photo credit: Wikipedia)
Les Arcs is the ideal beginner family resort it has many nursery slopes for you to ease your way into and it also has a free beginner lift. Once you're feeling confident it has more advanced slopes, you can take a try at. For those who want to get professional help there is an award winning ski school called New Generation, who have patient and friendly instructors. If you get bored of skiing there are many activities in the surrounding areas to keep yourself busy, from paragliding to tobogganing, there are many restaurants and for the local bars with modern and traditional entertainment and there are 2 clubs near Les Arcs.
2. Bansko Ski Resort
Bansko is a ski resort located in Bulgaria, it is on par with les Arcs as it is popular with beginners who want to learn how to ski as they have plenty of nursery slopes for those taking it easy and once they are up to it they can fly down the 16km intermediate stretch which takes them back to the resort. Not only does it have great runs, but it is Europe's cheapest ski resort and prides itself on its value for money. So prideful are the Bulgarians that Bansko's mayor George Ikonomov has cancelled all construction work surrounding Bansko until March 31st, so that tourists on their winter holidays will not be disturbed.
3. Poiana Brasov Ski Resort
English: Poiana Brasov din Postavaru' (Photo credit: Wikipedia)
Poiana Brasov is a ski resort in Romania, it focuses mainly on beginners which isn't surprising as its home to 10 main ski and snowboarding slopes. 4 of those which belong to beginner slopes, when combined is an impressive 5840m stretch. They then have 2 slopes for intermediates and 4 more for advanced skiers. Maybe you will want a bit of variety so you can hang up the skis for a bit and go visit the infamous Dracula's castle.
4. Mayrhoven Ski Resort
Mayrhoven is a winter sports haven and known for being quite a party town. With much snowboarding, skiing, para-skiing, and sledding to be done, it is a wonder how people have the energy left to party, but they do. So it's no surprise that it annually hosts the "Snowbombing music festival" which is a major electronic dance festival.
5. Chill Factor
So this is not a resort, but it's worth a mention. It is the UK's largest indoor ski dome, which can provide many soon to be holiday skiers with the practice they need to immediately enjoy their holidays.
It is located in Manchester and it is only £17 for 50 minutes of skiing on actual snow so it's a good idea to snap up the lessons while they are cheap. It doesn't only provide skiing, but also snowboarding lessons. Ever fancy going on an avalanche simulation? Well, now you can just climb into a giant ball with your friends and then you will be flung down a snowy hill you will experience 4gs of pure adrenaline rush. It provides practice grounds and that little bit extra entertainment you weren't expecting so it makes a good day trip.
John Ferguson is a Ski Holiday travel agent for Dare 2 Ski. When he's not organizing everyone else's ski holidays he likes to spend time on the slopes himself.
Read Next:
Best Colorado Ski Resorts for Families