We had the pleasure of staying at Summit Lodge on our last visit to Whistler up in British Columbia.
Summit Lodge is a boutique hotel on main street in the village. They are also home to Taman Sari Royal Heritage Spa.
The rooms here are easily able to accommodate families. They were even able to accommodate my family with an odd number of people. Our room had two queen beds, plus a couch that made into a full size bed. We especially enjoyed having a full size dining table with four chairs to sit around and have meals at. (Ok, I'll admit it. I sat at the table and worked even though I was on vacation.) There was a tv with cable, free wifi, and a fireplace.
In the bathroom there were full size bottles of hand soap and lotion, which I can not believe how much I enjoyed over those tiny bottles you usually get. It was the same in the shower large containers of body wash, shampoo, and conditioner. The shampoo was peppermint! The best part of the bathroom was the drying line. Perfect for hang drying snow clothes and bathing suits
.
One of the things I enjoyed most about Summit Lodge was the hot tub and heated pool. My kids love to swim and I love to sit in a hot tub. We made it a point to enjoy the pool and sauna at least once a day if not twice a day.
Down in the lobby every afternoon they set up a hot chocolate bar. They have a machine that can make coffee, lattes, mochas, or hot chocolate that is on almost all day. If was fun to go grab a mocha each morning and the kids thoroughly enjoyed the hot chocolate bar. They offer toppings and add ons like whip cream, marshmallows, chocolate chips, and honey. 
Related articles
Summit Lodge Boutique Hotel Whistler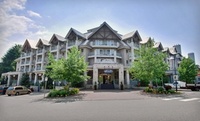 1- or 2-Night Stay with Breakfast at Summit Lodge Boutique Hotel Whistler in British Columbia